Toll free: 1-800-423-9844 • Head Office: 613-774-1361
Pivotech Doors Inc.
"Committed to Quality & Integrity"
Pivotech proudly supplies a comprehensive range of Electrical Operators from Micanan.
Micanan Systems is a leading manufacturer of commercial and industrial operators for the North American overhead door market and are known for developing innovative and versatile product lines inspired by the needs of their customers.
Micanan Systems has the right commercial door opening device for a wide variety of applications.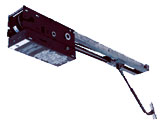 www.micanan.com
RBQ License #5640-8446-01